The Secret Life of Forms
Erin Stump Projects, Toronto
April 26 - May 25, 2019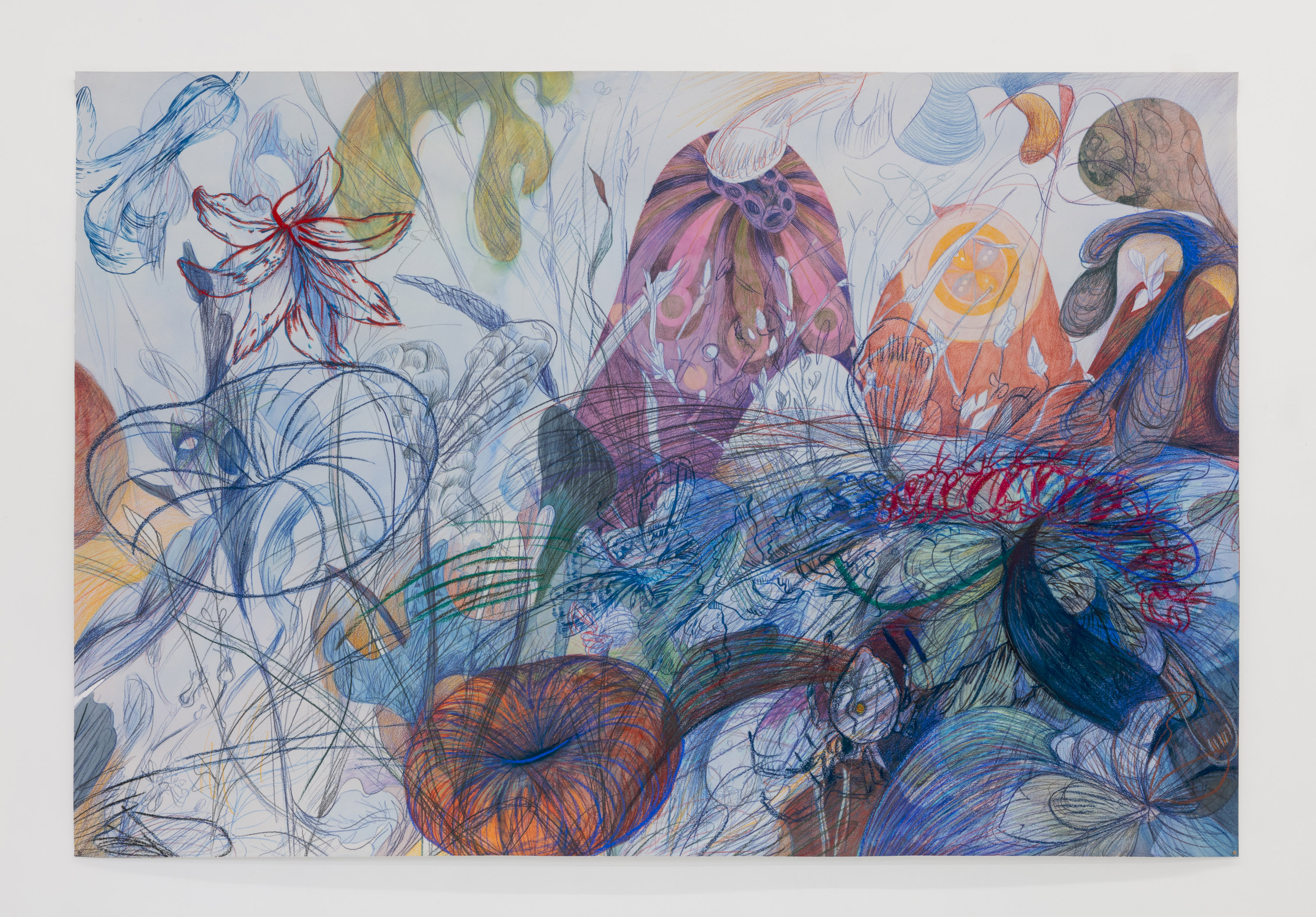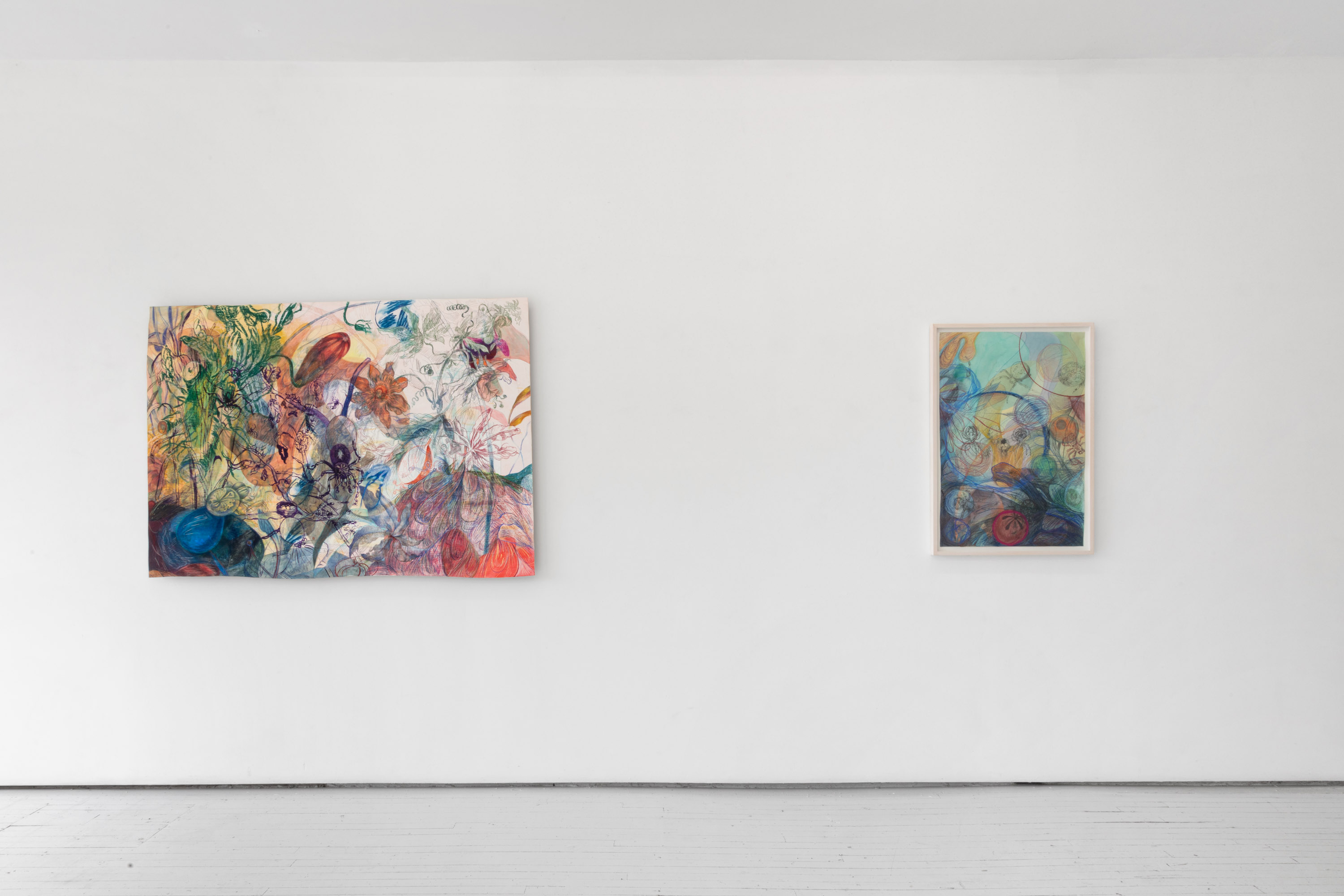 "Tentacularity is about life lived along lines — and such a wealth of lines — not at points, not in spheres"
(Donna Haraway, 'Tentacular Thinking: Anthropocene, Capitalocene, Chthulucene')

Who can claim to see, from a body or a place, anything besides a tangled thicket? Among trees, shifting wind and light diffract into patterns, which reveal new dimensions of moss and critter, colour and texture. In 'The Secret Life of Forms', a mesh of pigments and lines reframe the 'natural', casting light on Sarah Davidson's various references. Sinuous lines link to Hilma af Klint, Maria Sibylla Merian, or Ernst Haeckel - through a sieve of observation and projection. Weaving of this kind is not the disembodied view of a transcendentalist; the dizzying effect of roaming perspective is a spidery thought. Sticky webs fold and cling as spiders weave meanings in the changing light and the wind between branches.
SUPER, NATURAL
Derya Akay, Maya Beaudry, Francesca Blomfield, Colleen Brown, Sarah Davidson, Peter Fischli, David Weiss, Lucien Durey, Sharona Franklin, Ezra Gray, Julian Hou & L'escalier, Tiziana La Melia, Arvo Leo, Emily Neufeld, Ebony Rose, Alex Tedlie-Stursberg, Tristan Unrau
Unit 17, Vancouver
Jan 26 - March 17, 2019



Unit 17 is thrilled to announce the group exhibition SUPER, NATURAL, a significant presentation of over sixteen Canadian and international artists, writers and publishers to begin our 2019 program. The exhibition focuses on new and recent painting, sculpture, photography, prints as well as publications. SUPER, NATURAL launches a publishing arm of the gallery, with a physical and online reading room of artist/reference books, magazines & editions. Unit 17 books & editions supports the creation and dissemination of printed matter by represented and supported artists.

SUPER, NATURAL has grown out of the gallery's overall program, and its relationship to topics of ecology, transformation and entropy. This is an exhibition made up of our immediate surroundings and looks to human potential, our environment, its politics and poetics. Its title plays off of an omnipresent dogma of British Columbia - consumed in the most pedestrian of ways - working through this dense myriad of collaborators for this exhibition. It also reflects a more local art history, echoing ideas of multiplicity through social, cultural and economic means; the abstract, the real and the spiritual. SUPER, NATURAL is a not an exhibition in isolation but one that is bound to community.

This exhibition expands the reach of the gallery – physically, emotionally and socially. Proceeds from SUPER, NATURAL will change our infrastructure, in an effort to create a more neutral organization. This is to be completed through a three-prong system: larger focus on food production, rain water storage and solar power. Other proceeds made from sales of this exhibition and continued sales from Unit 17 books & editions will go to the Unist'ot'en Camp and other organizations fighting to protect Indigenous sovereignty and environmental justice.

The gallery's garden will feature two rotating outdoor installations on view until Spring 2019 by Emily Neufeld and Colleen Brown.
Staring Contest Through Fuchsia Membrane
Puddle Popper (Sarah Davidson, Juli Majer, Sonja Ratkay and Mel Thibodeau)
Little Sister Gallery, Toronto
October 6 - 28, 2018



PUDDLE POPPER slips through realities towards our desires, passing between description, invention and idealization to wiggle around truths. Through merging of forms, Puddle Popper creates a set-like world featuring invented beings, humanoids, tentacles and unreadable text. Appendages transform. Colour is revised. Portals open up, limbs are put part way through, and then all the way through, and new bodies are observed and created.

Puddle Popper is an artist collective formed in 2015 in Vancouver by artists Sarah Davidson, Juli Majer, Sonja Ratkay and Mel Thibodeau. They propose alternate spaces in which bodies both human and non-human interact: themes of difference, embodiment and ecology are the basis for playful, collaborative world-building.

Going On Without Us
Sarah Davidson, Daniel Griffin Hunt, Emily Moriarty
Bovey Teaching Greenhouse, Guelph
March 5, 2018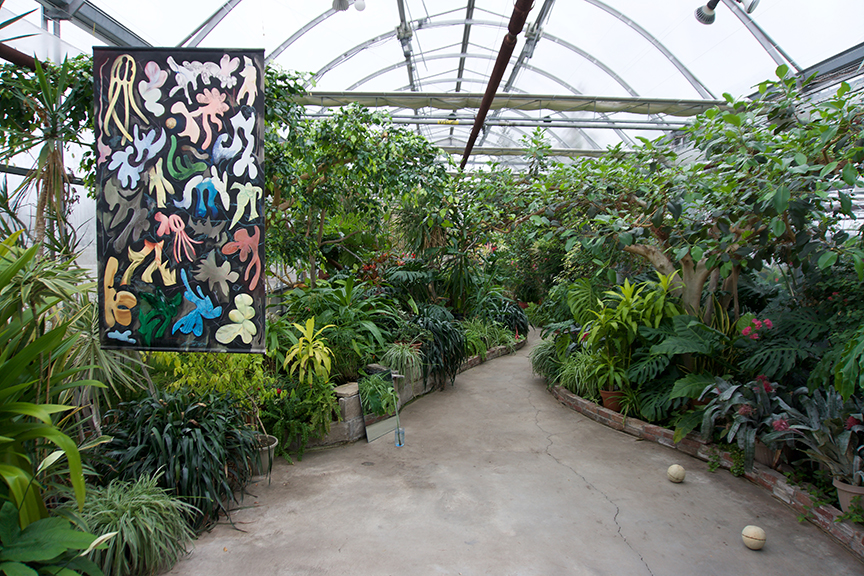 "The onion loves the onion.
It hugs its many layers,
saying, O, O, O,
each vowel smaller
than the last."
(Lorna Crozier, from The Sex Lives of Vegetables)

Do plants care about art? How closely are they watching us? Are we too late to start listening? Using the Bovey Teaching Greenhouse as a gallery space, three artists interpret the idea of plants as sensitive beings. The title of the exhibition alludes to the agency playfully accorded vegetables in Lorna Crozier's poetry collection The Garden Going On Without Us. Where Crozier imagines that onions have sex lives, the artists of Going On Without Us toy variously with visions of a posthuman world: as a speculative fiction, philosophical argument, and allegory of the present.


The location of the exhibition suggests possibilities for cross-disciplinary conversation between art and other forms of research, and reflects the various investigations of the individual artists. By situating this project in a working greenhouse, they have foregrounded the vegetable kingdom to speak to ideas of intersectionality, synchronicity, and site-specificity central to each of their practices.

The E.C. Bovey Building is located on the southwest corner of the main Guelph campus. Built in 1991, the complex houses both faculty as well as research facilities. In addition, the Bovey complex includes an expansive network of greenhouses and growth room facilities, found west of the main lab/administrative buildings. The tropical greenhouse houses a collection of plants, including tropicals, cacti and orchids.
for the trees
Dynamo Arts Association
April 13, 2017



Preservation is a word oft associated with environmental activism. However, its implementation is a distinctly "cultural" phenomenon, not a natural one. Namely, it is one of human beings, and their technologies. Preservation brings along with it a whole host of other activities. The verb implies an external process to occur in order to accomplish its goal. You have pickling, salting, fermenting, cataloguing, copying, categorizing, languaging, embalming. In reality, ruin itself is a much needed process in the activity of sustainment of diverse life. The transfer of heat from one system (biological, ecological, and, I would argue, visual, and ontological) is integral and the multiplicities of systems allows for a birth of organization in the transfer of this heat.
Origin of Species by Darwin, and Kelvin's laws of thermodynamics were published in the same decade. They both came on the tail end of the industrial revolution. Both theories were argued as paradoxical, and heretical, by the church. Both conceptually resist the possibility of a creative or intelligent design in the world. However, once you consider the closed system of thermodynamics as being one which encompasses you, the earth, the universe, this transfer of heat and its loss in the process – the movement of such energy – can still create a beautiful and complex diversity of ruin.
excerpt from
you can't see the forest
, catalogue essay by Brynn McNab published as
for the trees

Moth Eye
watercolour, ink, and pencil crayon on paper
12 x 9 in
2020


Webbed
watercolour, ink, and pencil crayon on paper
12 x 17.5 in
2020

Oculus
watercolour, ink, and pencil crayon on paper
12 x 17.75
2020
Flap, Blink
watercolour, ink, and pencil crayon on paper
12 x 17.75
2020

untitled
watercolour, ink, and pencil crayon on paper
12 x 17.5 in
2020

Merian life
watercolour, ink, pencil crayon, pencil and pastel on paper
40 x 21 in
2019

detail: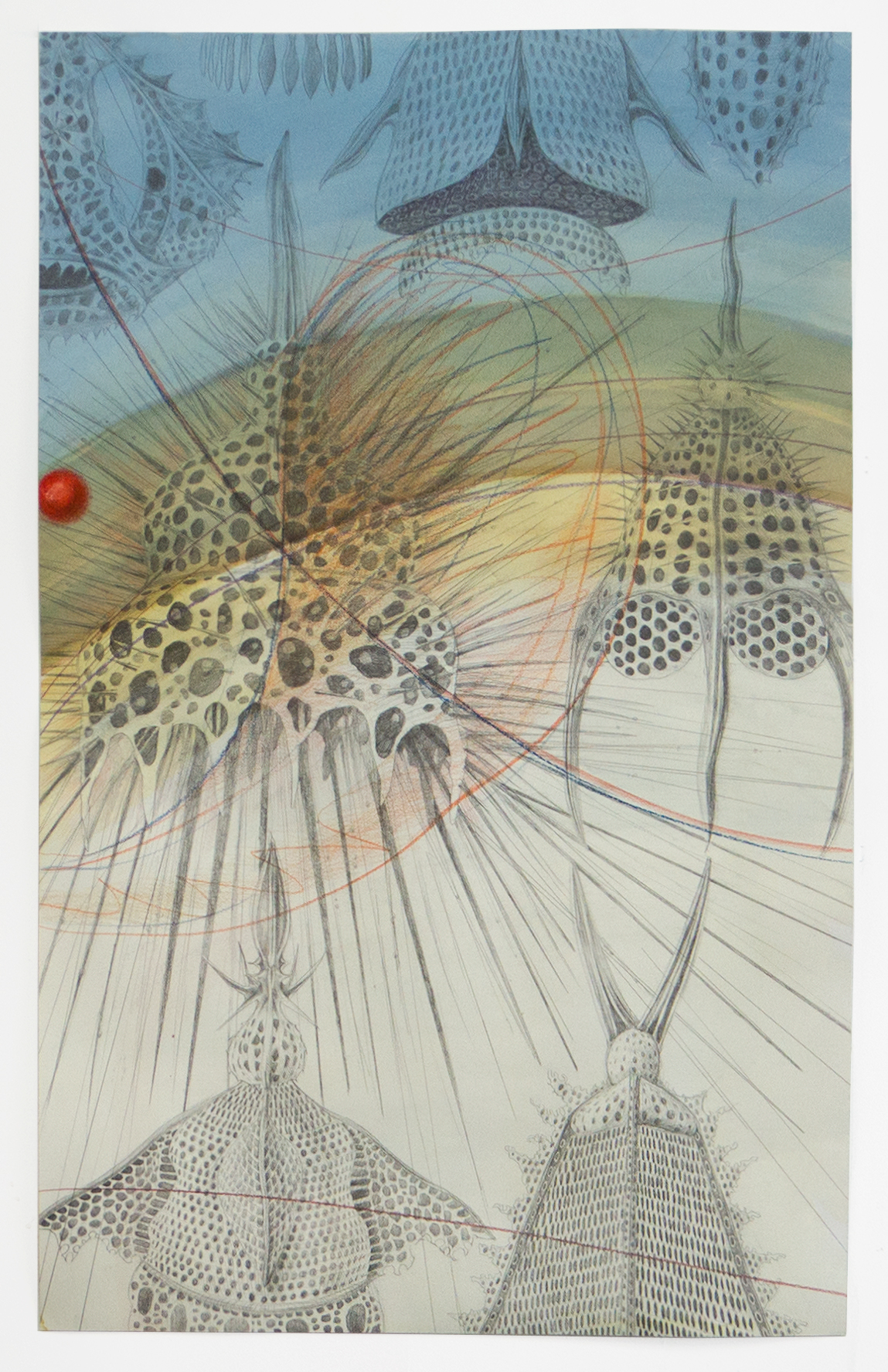 Cyrtoidea dot
watercolour, ink, pencil crayon, pencil and pastel on paper
21.5 x 34.75 in
2019

Mycetozoagram
watercolour, ink, pencil crayon, pencil and pastel on paper
48.5 x 23.75 in
2019

detail:


Mycetozoa are cold
watercolour, ink, pencil crayon, pencil and pastel on paper
40 x 21 in
2019

Lived Along Lines
ink, watercolour, pastel, pencil and pencil crayon on paper
68 x 46 in
2019

details:


Spiderplant
watercolour, ink, pastel and pencil crayon on panel
45 x 60 in
2018

details:


Subterranean Marks
watercolour, ink, pastel, pencil crayon and pencil on paper
dimensions variable
2018

details: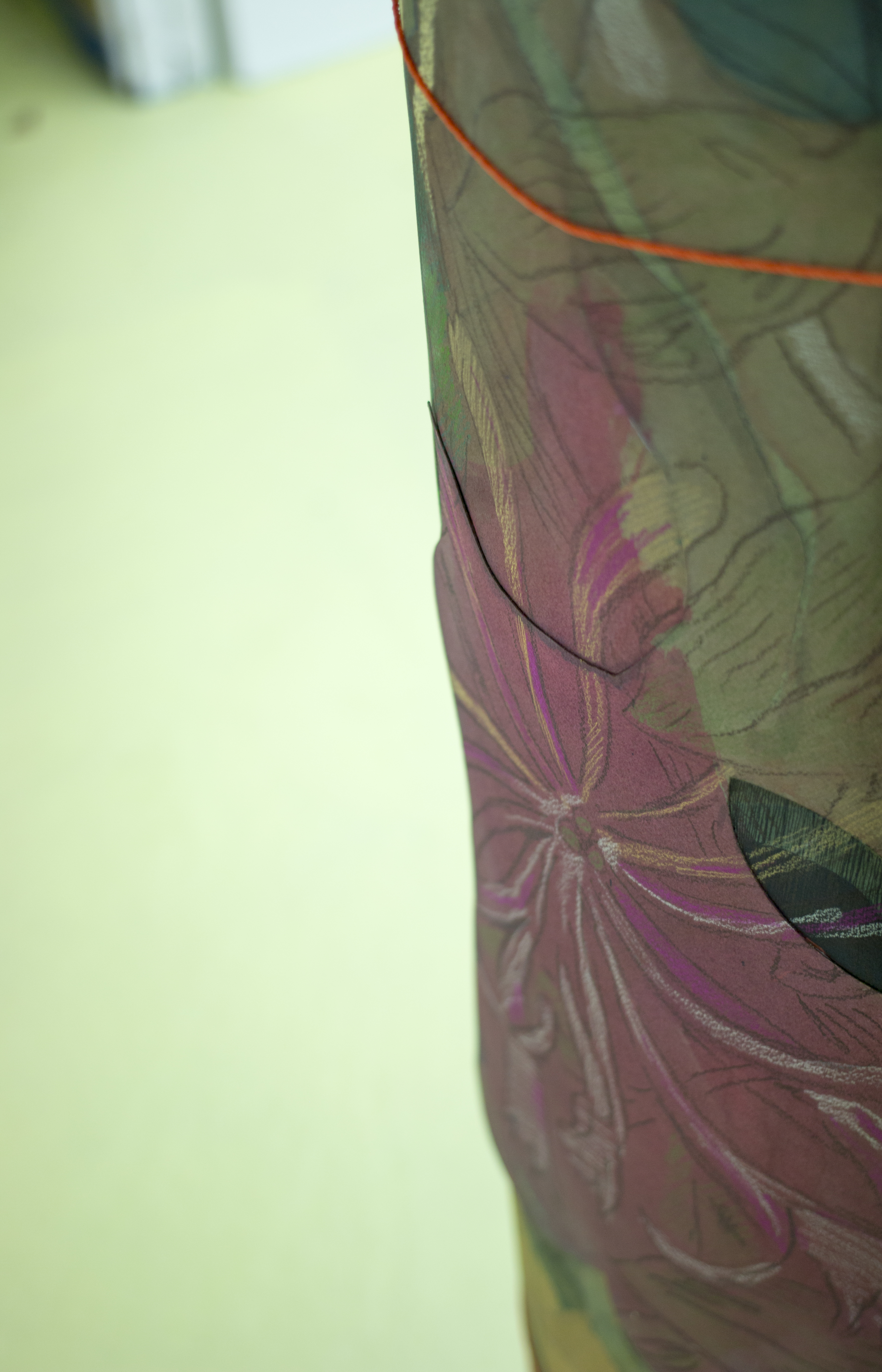 installation:


The Life of Forms
Watercolour, ink, pastel and pencil crayon on Arches hotpress paper
50 x 75 in
2018

details:


Cherries for Hilma
Watercolour, ink, pastel, pencil crayon and pencil on paper
47 x 33 in
2018

details:


hide and seek
ink, watercolour, flashe, graphite, pencil crayon on paper
46 x 51 in
2018

the garden at night
watercolour, ink, flashe, and pencil crayon on paper
50 x 75 in
2017

details: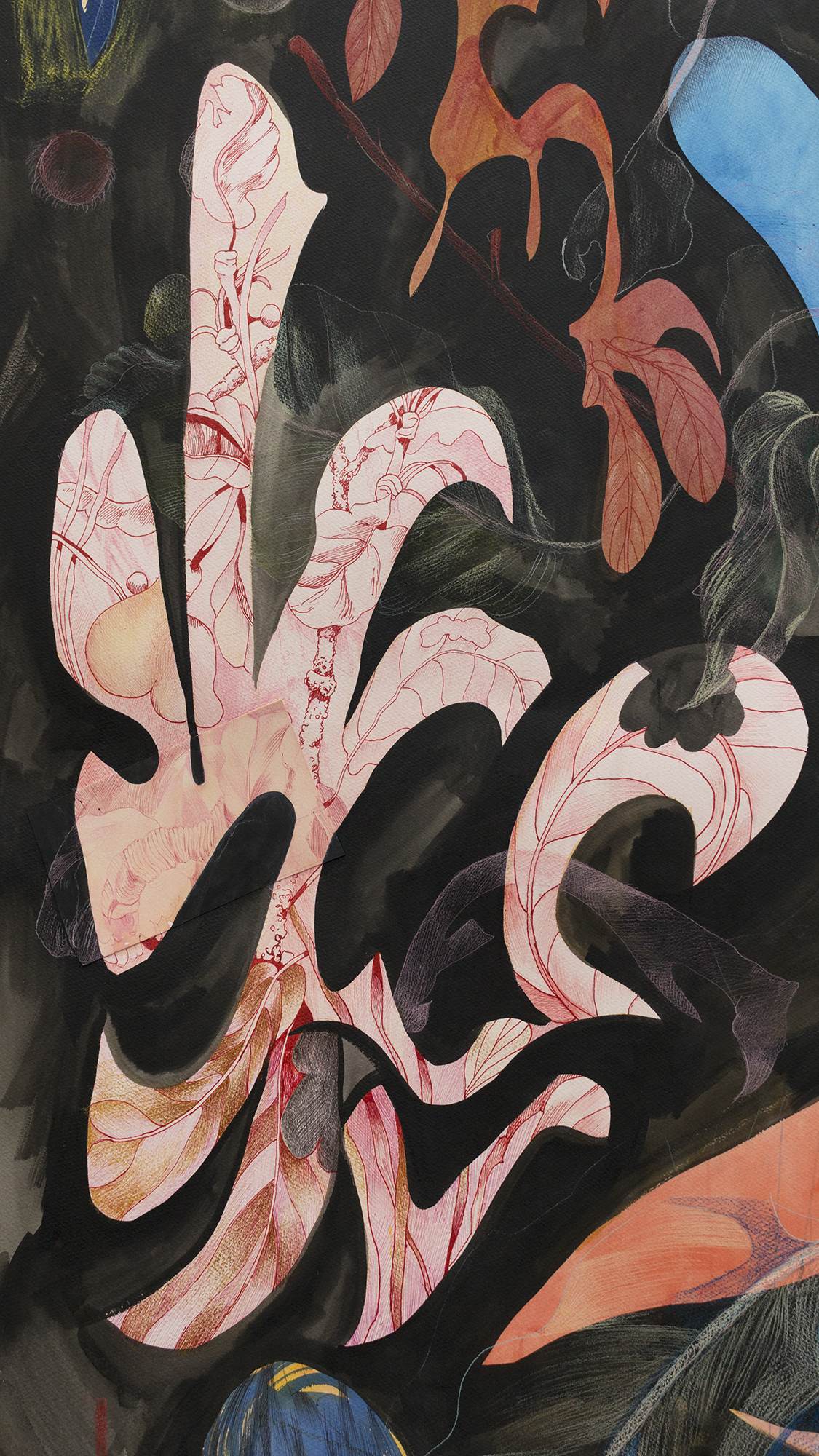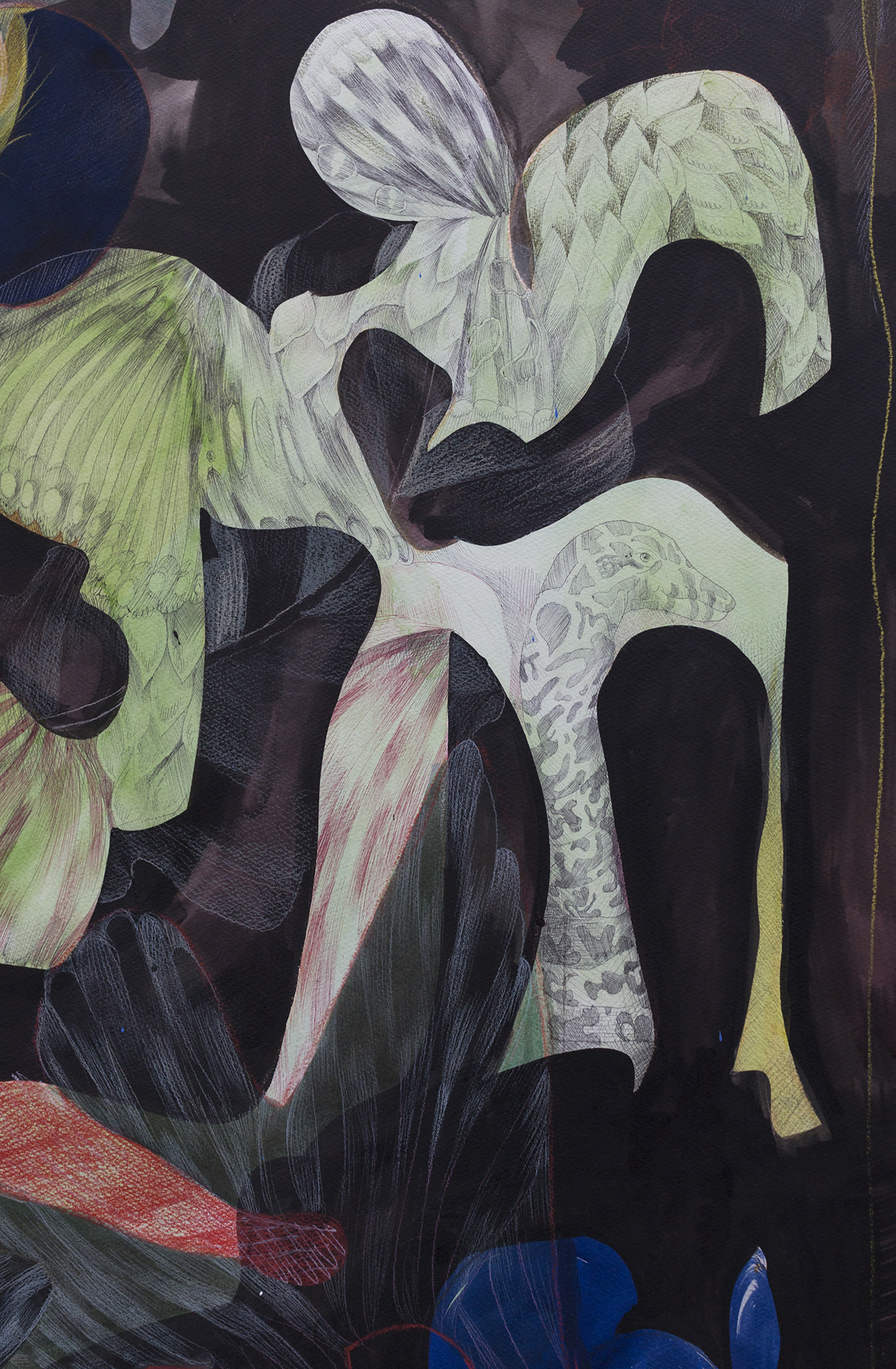 install:


edge effects
watercolour, ink and pencil crayon on paper
35 x 62 in
2017

details:


the secret life of plants
ink, watercolour, flashe, graphite, pencil crayon on paper
37.5 x 69 in
2017

details: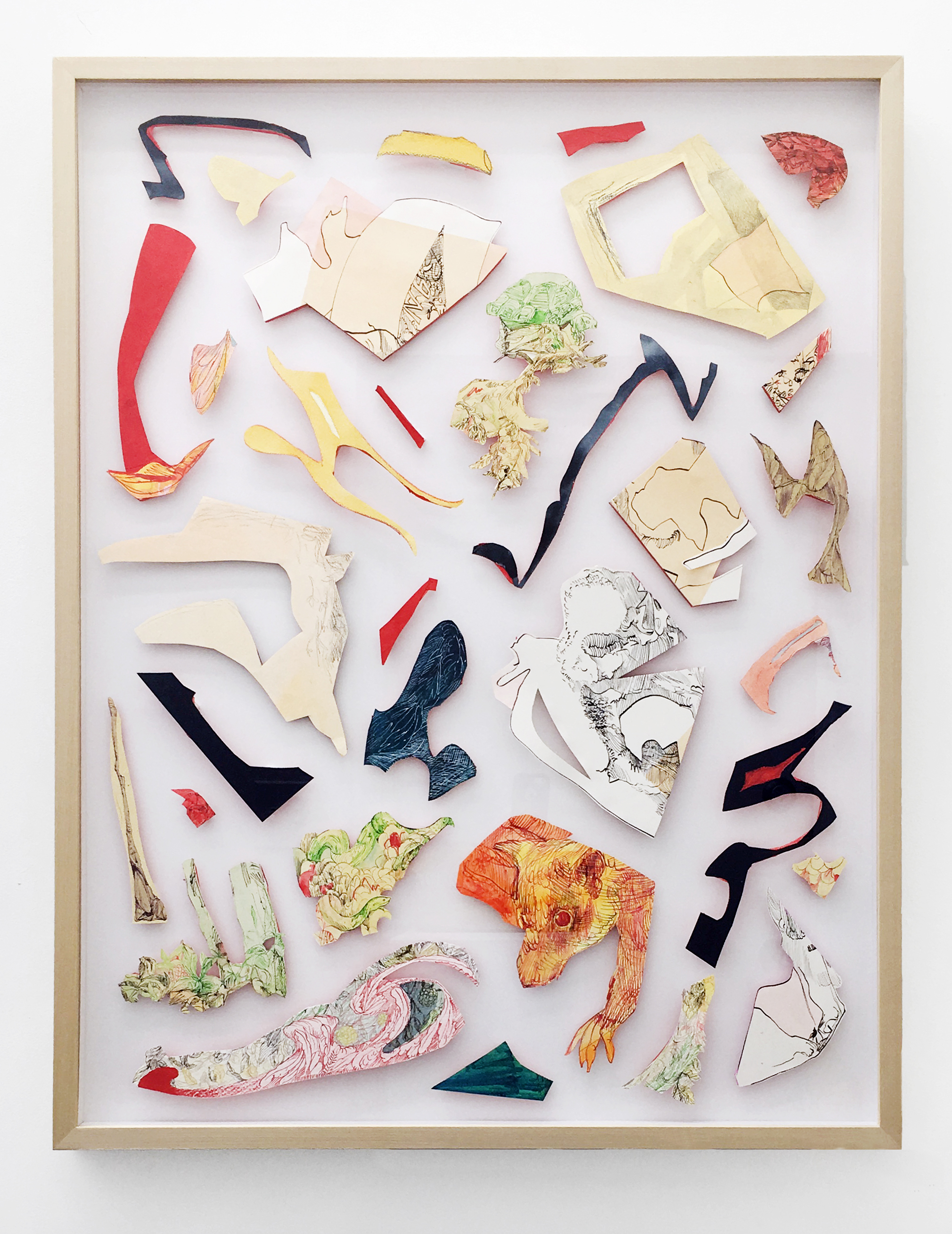 Tattered Ruins of that Map, inhabited by Animals and Beggars
ink, watercolour, pencil crayon, gel pen, and flashe on paper, mounted on foamcore
28 x 36 in
2017

ornament is something deprived of time
ink, watercolour, pencil crayon, gel pen, flashe on paper, mounted on foamcore
32 x 42 in
2017

tentacular thinking
ink, watercolour, oil stick, flashe and graphite on paper
50 x 37 in
2016

detail: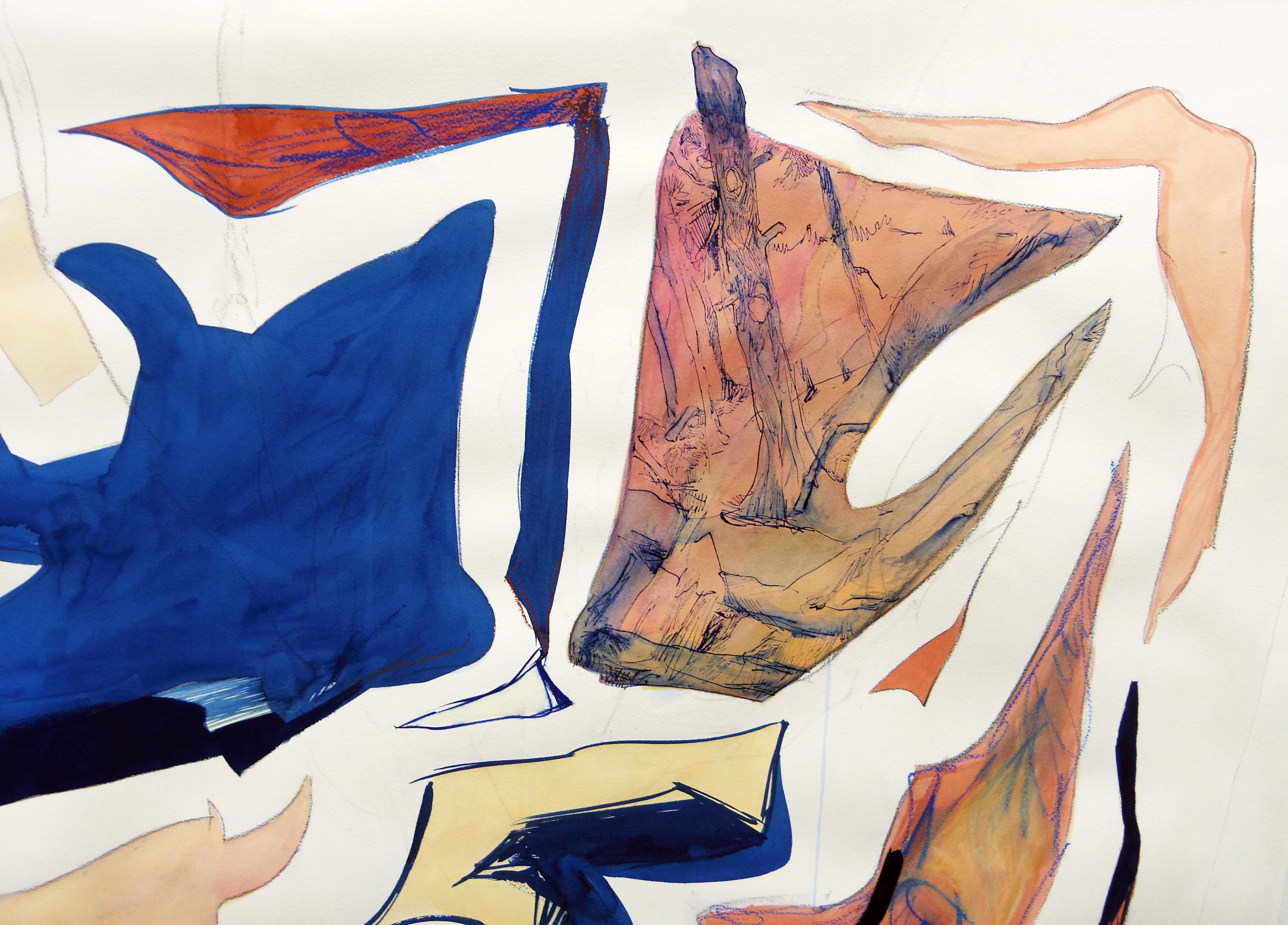 The Menace
ink, watercolour and graphite on paper
56 x 43 in
2016




Red Colour
ink, watercolour, pencil, silkscreen, collage, Arches hot press paper, foamcore
28 x 36 in
2016

detail:


Blue Colour
ink, watercolour, pencil, silkscreen, collage, Arches hot press paper, foamcore
28 x 36 in
2016

detail:


Yellow Colour
ink, watercolour, pencil, silkscreen, collage, Arches hot press paper, foamcore
28 x 36 in
2016

detail:


for the trees

Preservation is a word oft associated with environmental activism. However, its implementation is a distinctly "cultural" phenomenon, not a natural one. Namely, it is one of human beings, and their technologies. Preservation brings along with it a whole host of other activities. The verb implies an external process to occur in order to accomplish its goal. You have pickling, salting, fermenting, cataloguing, copying, categorizing, languaging, embalming. In reality, ruin itself is a much needed process in the activity of sustainment of diverse life. The transfer of heat from one system (biological, ecological, and, I would argue, visual, and ontological) is integral and the multiplicities of systems allows for a birth of organization in the transfer of this heat. Origin of Species by Darwin, and Kelvin's laws of thermodynamics were published in the same decade. They both came on the tail end of the industrial revolution. Both theories were argued as paradoxical, and heretical, by the church. Both conceptually resist the possibility of a creative or intelligent design in the world. However, once you consider the closed system of thermodynamics as being one which encompasses you, the earth, the universe, this transfer of heat and its loss in the process - the movement of such energy - can still create a beautiful and complex diversity of ruin. (Brynn McNab)

for the trees is a collaborative risograph book experiment based on a series of drawings by Sarah Davidson. The publication was developed with Erica Wilk, who uses her Risograph publishing studio Moniker Press as a platform for artistic collaboration. The book also includes a text by Brynn McNab, written in response to the art.

Using only four risograph colours and coloured paper, for the trees utilizes colour layering techniques to create continuity with the original work and essay throughout the book.

for the trees
Drawings—Sarah Davidson
Book Design—Erica Wilk

you can't see the forest
Essay—Brynn McNab

Risograph printed & published by Moniker Press
Perfect bound with fabric book tape binding.
52 pages—Edition of 150
Vancouver, BC—2017